PRINCIPLE OF OPERATION
La the oxygenating machine OXY-UP works on the same principle of the OXY-JET and OXY-NEB, with the difference that the rise is created artificially with a low-head pump.
In comparison with other mechanical oxygenating machines, the OXY-UP consumes electric power only to raise the water.
The total cost of a kilogram of dissolved oxygen is reduced to a half of that of other oxygenating machines with "paddles" or "drums".
After the OXY-JET o OXY-NEB, which exploit natural rises, the OXY-UPs are the most economical oxygenating machines currently available on the market.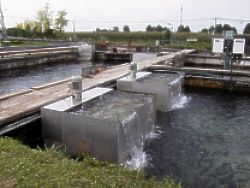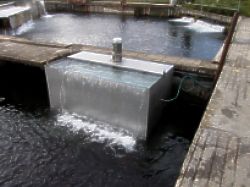 CARATTERISTICHE TECNICHE
construction in Aisi 304 or 316 steel

Low-head high-efficiency pump

Water inlet chamber

Automatic regulation of the flow of water

Automatic regulation of the pressure of the oxygen chamber

Available in three models, 60-120-250 according to size and water flow rate